Jane Smithers Fine Art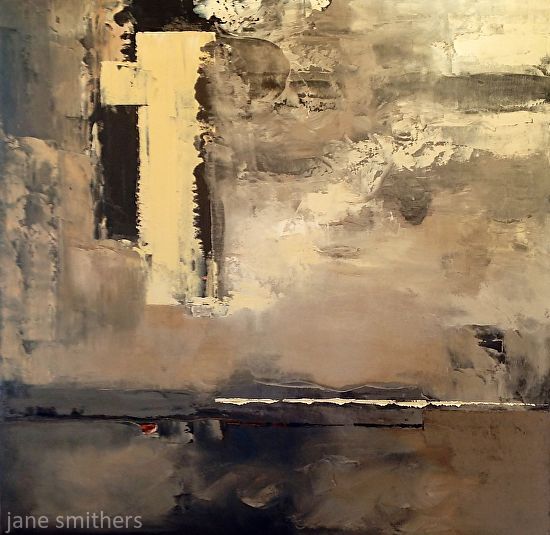 My life experiences have become reality through my art:
first in journals as I am actually experiencing the events…
then on to the canvas as I push the paint, re-living the colors, smells, conversations, feelings, the essence of those moments.
This is my "modus operendi" and who I am!
Realizing how precious my time has become, I am no longer willing to squander my time and art on anything that does not nourish my true self.
In the past ten years I have been able to put myself in the way of change.
That being said, CHANGE is now my muse, my mantra and has enabled my work to become an expression of this gift of art.
The mystery of color and imagination, as John O'Donohue so aptly stated, is the place where I am the most content.
And I have the tools to capture just that….JOURNALS AND CANVAS.
I make the subject my own by singling out what means the most to me.
That element is then "staggered" and the painting is pushed just beyond realism…
perhaps capturing the fragile affinity between my spirit and my art.
"Visiting Jane's website is like stepping into a world vibrating with image and color."
Kay Byer, North Carolina Poet Laureate
Just a bit of artistic braggary!!!
Mildred Wilcox, Owner Left Bank Art Gallery
It seems that many contemporary artists feel the need to express themselves in a more independent manner. Jane Smithers is one such artist who has taken the lead in abstracting her colorful, expressionist art work. Fireworks of color explode in some of her recent work. Even though these paintings are abstractions, they still hold together and one can see the fine technique shine through these new paintings.
Knight Matorell...architect, musician and artist
Your painting is wonderfully engaging, and very different. I LIKE IT, to say the least. What a great subject of balance vs symmetry, but what I find most intriguing is the dialogue between the flat picture plane & spatial implications. At first unfocused glance, the lights and darks, and the color palette implied a space to me. Not just vaguely, but very precisely and that is extremely cool and unexpected thing to happen with an abstract painting.
You have all of this going on in the painting, and that is even before we start to enjoy the shear pleasure of the emotional painting application & technique. Your painting techniques have a provocative quality which, in my mind, is the icing on the cake in abstract painting. But, of course, it has always been apparent to me, and I've told you this before, that your love for the material comes through in your work. There is a love for the tools in the same way that a potter told me that he loves the smell and feel of the clay when he starts work in the mornings. Please another for me to see & thanks.
Pam Brickell
Thanks so for the new window of opportunity. I never expected to achieve a finished piece in a workshop... just want to come away with techniques to be applied in my own setting. See lots of practice sessions coming my way :) Such fun!
Kimberly Bisger
Thank you so much! I have done 3 palette knife paintings since the end of class. I am so excited!!! I really feel that this will change the way that I do landscapes (and probably many other types of paintings). I really would love your input on becoming more of a professional artist and showing in galleries. Would love to have a glass of wine and pick your brain. I just love painting so much and would like to take it to the next level. Everyone had great feedback on your workshop. I saw Geoff this evening (the very beginner painter) and he was just raving about you....
Sharon Edwards
I'm truly looking at scenery ( sunsets, trees, marsh colors) through totally different eyes! Seeing more details.
Thanks for a wonderful intro into the world of painting!
Geoff Lorenz
Once again, you have thought of everything!!!
Bonnie Mason
Thank you! I absolutely enjoyed the workshop and couldn't believe how I didn't have "painter's block"!!!! My NY resolution is to spend more time in the design phase either with my photos or en plein air. There was something very freeing about working from my sketch and not the photo.
Patti Page (Villars, France)
Hope all well with you and hope we will meet again in the fullness of time you were a great teacher.
Lynda Ammar
Jane, you paint as I would wish. I so enjoy your work because I see the 'strokes' but can feel the energy. I look & look beyond the picture - it's in my head as if I were there - as if it were me. This probably sounds rather existentialist - but perhaps you understand what I'm trying to say!